At least once every day I have a moment of sheer terror.
My brain screams: What the F are you doing? You're going to die! You're going to go broke! Your world is going to end! There's not time left! It's all falling apart! It's all for nothing! It's hopeless! ETC. ETC. YAWN.
Needless to say this is where I despair even being alive.
And then I either collapse and go to bed, or have a nice pity party first.
Surprisingly, this scenario plays out no matter what my current situation is. I had these moments even when I was working and well off and healthy.
But I learned a simple technique.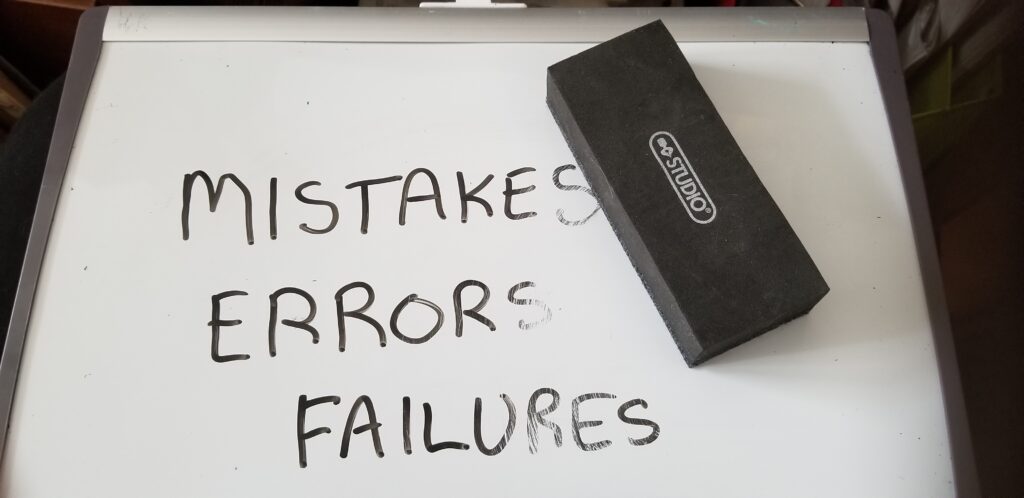 Today is a whiteboard, or if you're old fashioned, a chalkboard. Whatever is written there can be wiped clean off.
Tomorrow is a blank slate. That is, every day that I am permitted to live on this earth is another chance to change my life and make what is wrong, right. What doesn't work, work. To put new marks on my whiteboard. The rule is however, that board is always wiped clean at the end of the day.
Whatever I screw up today, tomorrow I have a chance to do better. And if I screw it up more, at least have a good laugh.
So when I fail – I overeat – I don't exercise – I can't write one damn word on my book – I can't even draw a squiggly line on my latest art project – I said the wrong thing – I ate junk all day – I spent too much money – I bought crap – I forgot to do something – I failed an exam – whatever – I know that tomorrow I can write all day, I can eat properly, not spend money, pass exams, make an apology. Or not. There is always the next blank slate day.
It is ditto for successes. They are only good for a day too. Well, sometimes, maybe, okay, I can let them linger for a few days longer. But all those mistakes, errors and failures Swoosh! Gone.
I don't need to carry my failures into the future. They are wiped out at 12:00 a.m. when the next day starts.