My cat Sam is an active little cat, with long legs that propel him in a single bound over several pieces of furniture to his perch on the cat tree.  They also enable him to gallop wildly around the apartment, launching paper, ornaments and anything else once stationary, into space.
He is at once my inspiration and my critic.  His energy calls me to action, to create art, books and blog.  Sam then shows his gratitude by eating my works.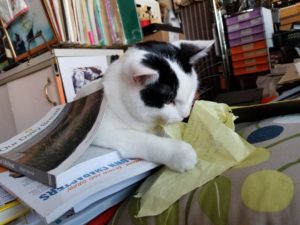 Always glad to see me after work, he covers me with kisses, nips and wads of white fur head to toe.  I ignore him to my peril; he is a four footed demolition crew, and if I dare to go to bed before he is ready, his mournful cries make one think he is dying a slow and painful death.
See my books A Pleasant Day with Sam and Another Pleasant Day With Sam.
Sam inspired me to create a new book, Buy Yourself Some Roses, about getting your dreams.  But I really learned how to get my dreams before Sams' help when I decided to make time to do them.
But not just any old time.
I tried and failed a thousand times to schedule my free time to do what I love.  Scheduled so much I began to hate my free time!  I could not follow it long.  Frustration!
My first book, way back in 2005, was done in only 5-10 minutes each morning before I went to work.  I was amazed at how much drawing I could do in such a short increment of time.  Also surprising was how hard it was to limit myself to a few minutes (I was often then late for work. . .)
I have since learned from books like The Miracle Morning by Hal Elrod, that mornings are the best time to do your dreams.  So I began to allot one half hour to my art and one to physical exercise before doing anything else.
Since that decision, I have published 8 books in only 2 years and started this blog.  I suffered an injury (as noted in previous blogs) that derailed my exercise routine, but I am now back on track.
I know that right action combined with the right time will make your dreams reality.  Treat yourself as number one, the one that matters first in your busy days.  The one who deserves a dozen red roses.
Check out my new book to see for yourself.  Just ask Sam!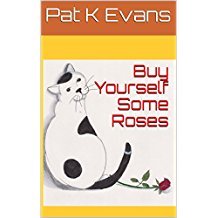 My cat will show you how easy it is to get your dreams.  Amazon.com